Activist Peng Hong-ling is turning his artistic talents towards ending what he calls the brutality of the industry
Source: South China Morning Post
Hong Kong entrepreneur and animal rights activist Peng Hong-ling is hoping to bring an end to Asia's dog meat trade … using oil paintings.
The 58 year old, known by his pen name Genlin, began his campaign against cruelty in the industry three years ago after he went back to his family's hometown in the southern Chinese province of Guizhou and saw a four-storey building full of dog meat sellers.
Describing it as "the saddest experience" of his life, Peng learned about how the trade was one of Guizhou's traditions and that it was common for locals to eat the meat, with some even saying it was their favourite food.
Peng was utterly shocked. He has been a dog lover since he was a little boy.
"I remember my dad once told me about how his pet dog would try to stop his mum punishing him for poor school grades by standing between them," he said. "Dogs actually have many human-like qualities. Why would people want to eat them?"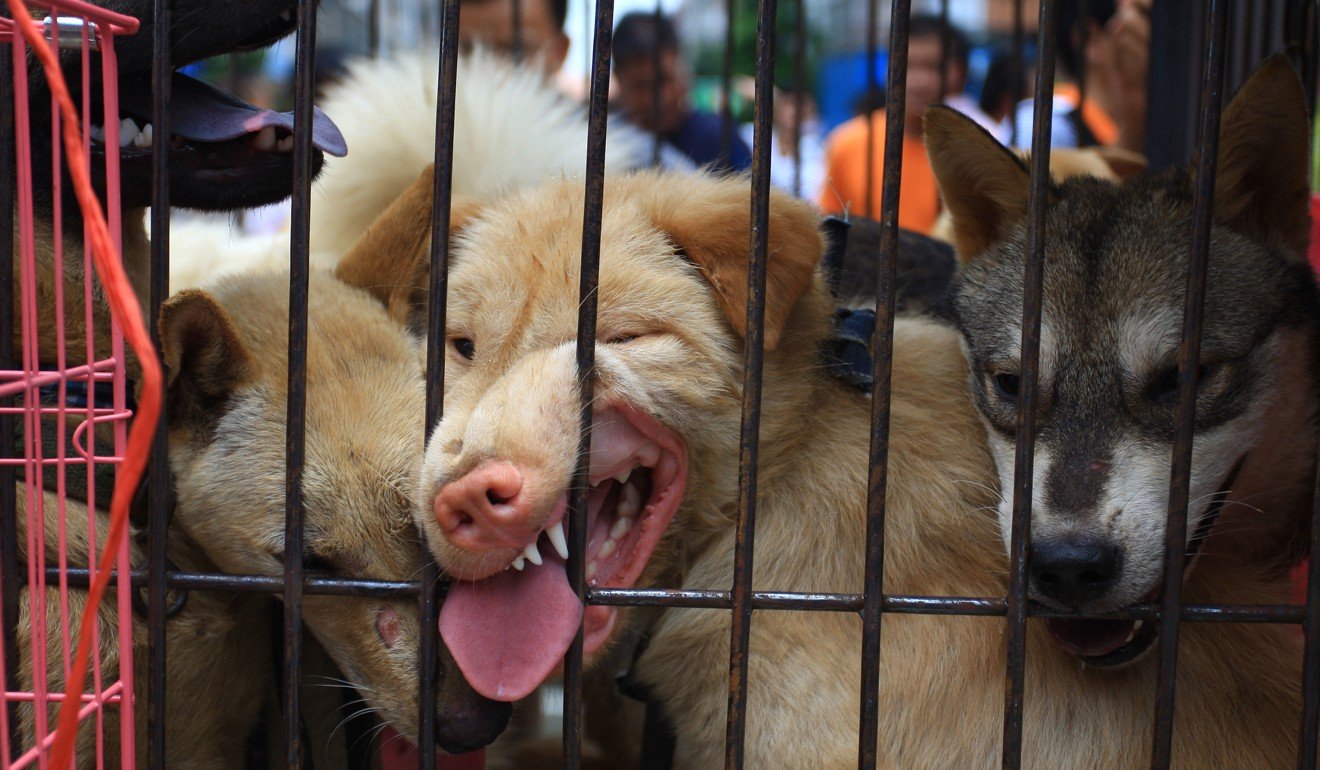 Although he was born and raised in Shanghai, Peng spends most of his time living and working in the United States, Japan and Hong Kong. He had no idea people were still eating dogs before his trip to Guizhou.
He said he couldn't understand why the practice was still allowed since many activists like him had been working hard on promoting animal rights.
Long-standing traditions in Asia and low costs sourcing and trading dog meat are keeping the industry alive.
"First, they believe it's their tradition. So no matter how hard we try to stop this practice, they will say it is their right to eat dogs," Peng said. "There are some people who even believe eating dog meat helps them live longer, which is complete rubbish and certainly without any scientific proof.
"Finally, since many of these dogs are stolen pets, it means low overheads and high profit margins for traders."
After his unpleasant Guizhou experience, Peng started researching dog-eating practices and found that more than 30 million were being eaten every year across Asia in countries including China, South Korea and Vietnam. Most of the dogs were stolen.
In a 2014 documentary titled Eating Happiness, Peng exposes the brutality of the dog meat trade on visits to the backstreets and rural villages of Vietnam, South Korea, Thailand and China.
In the same year he set up the non-profit World Dog Alliance in Hong Kong, calling for legislation to ban dog meat consumption in countries where it is still allowed.
Peng said he initially thought the documentary, which he spent two years putting together, would help stop the practice by showing audiences the disturbing facts, but he later realised he had something else in his arsenal more effective – paintings.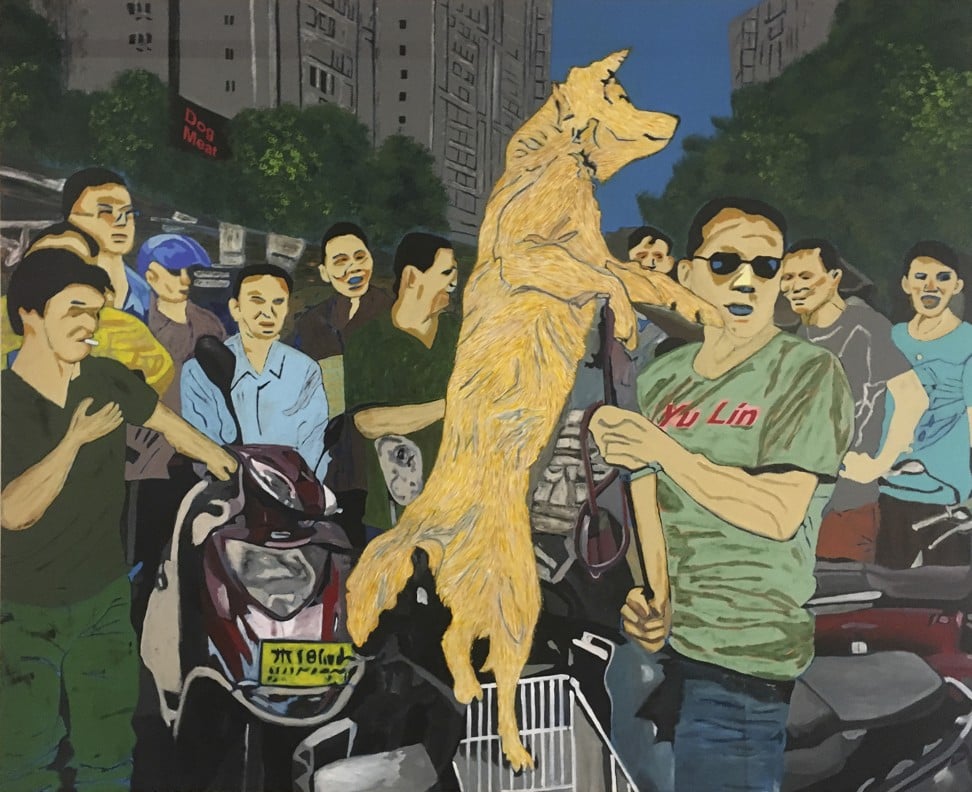 "Most people are disturbed or even haunted by photos and images of the ugly truth," he said. "Those who love dogs are too afraid to watch."
The gruesome scenes in his documentary meant many people refused to watch it, he said.
So Peng then took to using oil paintings to get his message across, as they avoided the worst scenes of cruelty seen on film and therefore became more acceptable to a wider audience.
He has always been passionate about painting. His art work in his younger days focused more on his life and society, but in the past three years he has been producing dog-themed work. Some pieces depict dog traders in Yulin – a city in Guangxi province, which borders Guizhou – beating captive dogs as a threat to animal lovers not to try to rescue them. Yulin is notorious for its dog meat festival, which takes place in June every year.
Peng's favourite painting, however, is a heart-warming one. Standing next to the two-metre-tall work named Jubilant Gathering, which features 10 dogs playing poker, Peng said: "I like to play poker and I have 10 dogs in different homes in the US, Hong Kong and Canada. That's how it was inspired."
The piece is one of a series of 30 large paintings featured in his first exhibition at his art gallery at King Palace Plaza in Kwun Tong. The exhibition is open to the public from September 26 to 28.
Peng said that only through such large paintings could he express his unconditional love for dogs.
"I value dogs as much as I value my own life," he said.